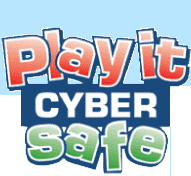 According to the Business Software Alliance, "while the Internet can be a unique educational and recreational resource for children, it's important that kids learn how to use this powerful tool safely and responsibly. The goal of this Web site is to empower children, parents and teachers to prevent cyber crime through knowledge of the law, their rights and how to avoid misuse of the Internet." Here are their "Five Tips For Raising Children To Be Respectful Cyber Citizens:"
Stay close. An involved parent is the best teacher. Know what games and other software your children are enjoying and where they got them. Remind kids that even when a friend offers to copy software it may be illegal to do so. As always, if your children are unsure or have concerns, have them ask or help.
Arm yourself with knowledge. Internet resources are available. BSA's Web site, www.playitcybersafe.com , offers children in grades three to eight a selection of engaging, age-appropriate activities, including the Play It Safe in Cyber Space curriculum, that make it fun and easy to learn more about intellectual property, copyright and the ethical and legal uses of software.
Bring it up and define terms. Never underestimate your influence. It makes a difference when you engage kids in conversation about who owns the copyright in the games, music and software they enjoy. Define cyber-ethics terms such as copyright, license agreement, and software piracy, and discuss them routinely with your children. Show them what a copyright symbol (©) looks like and what it means-that the material is owned by someone else and may not be copied without permission. A glossary of terms is posted on www.playitcybersafe.com.
Establish ground rules. Establish the rule -- Don't copy. Whether at home, at school, or at a friend's house, turn respect for copyright law into family policy.
Use positive reinforcement. Compliment children's good cyber behavior. If possible, reward them for it with extra computer time or provide another incentive.
Then, once they have signed the "Cyber Ethics Champion Code" you can give them a Certificate. If you're lucky, they won't become "Pirates of the 21st Century."
&nbsp &nbsp (0)comment(s) &nbsp &nbsp translate &nbsp &nbsp More Updates &nbsp &nbsp Send &nbsp &nbsp